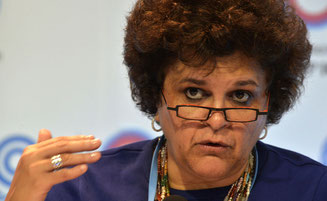 Brazil will increase the use of renewable energy, target zero net deforestation and push for low-carbon agriculture as part of its climate proposal, Environment Minister Izabella Teixeira said in an interview.
In its proposal to the United Nations climate conference in Paris this year, Latin America's largest nation will propose ambitious new targets to reduce destruction of the Amazon rainforest, boost reforestation and increase solar, hydro and wind energy. To do so, it will require more foreign capital and technology, Teixeira said in her office in Brasilia.
Over the past decade Brazil has been one of the world's protagonists in combating climate change, slashing its greenhouse emissions by 41 percent between 2005 and 2012, according to official data. Making further cuts may be more difficult. Emissions from energy generation during the same period rose 36 percent, while the reduction of Amazon deforestation, a major source of carbon emissions, is slowing.
"Brazil won't be the last country to submit its proposal and it will be ambitious," Teixeira said on Tuesday. "You will be surprised."
UN Conference
Mexico last month became the first developing country to present its proposal for the December United Nations Framework Convention on Climate Change, pledging to cut greenhouse gas emissions by 22 percent its target for emissions by 2030. The U.S. pledged to pare emissions 26 percent to 28 percent from 2005 levels by 2025. The Paris conference will bring together 190 nations to seek a deal to reduce global warming.
The first proposals to the UN aren't necessarily the best, Teixeira said, adding that the country's proposal would be based on consultations and would carefully weigh the costs of introducing new production methods.
In its plan, Brazil will deliver a target number to reduce illegal deforestation, primarily from cattle ranchers who slash and burn trees to breed livestock.
Farmers and land owners in Brazil can legally extract a limited amount of forest. According to the new plan, any remaining legal deforestation will be compensated by planting of primarily native forest, Teixeira said. The government's funding for forest police hasn't been affected by Brazil's spending cuts designed to reduce a budget deficit, she said.
Zero Deforestation
Amazon deforestation plummeted to 4,571 square kilometers in 2012 from 27,772 square kilometers in 2004. It rose the following year and fell again to 4,848 square kilometers in 2014, according to data on the National Space Research Institute's website.
"Brazil today has no obligation to reduce emissions," said Teixeira. "Even so, we adopted a national climate change policy in 2010." Forest destruction accounts for 15 percent of Brazil's greenhouse gas emissions, down from 58 percent a decade ago.
Preliminary studies show that it is economically feasible to increase the share of renewable sources such as wind, solar and hydro in Brazil's energy matrix, reversing the rise of emissions from energy, Teixeira said.
The extent to which Brazil can adopt more solar will depend in part on technology transfers and investments provided by manufacturers of panels. While wind plants have increased from zero to 6 gigawatts since 2009, they still represent less than 5 percent of the country's energy matrix. Fossil fuels account for 20 percent and hydroelectricity for 68 percent.
Facing a record drought that has reduced hydroelectric output, the country has been forced to increase the use of thermoelectric plants.
No-Till Farming
In November, Brazil awarded its first contracts in three years for coal and natural gas power plants. The government has signaled it will add more thermoelectric capacity in the next energy auctions. Even so, the share of renewable energy would increase, Teixeira said, playing down the impact of Brazil's thermoelectric emissions, which she said account for less than 0.1 percent of global emissions.
Agriculture represents the biggest challenge, representing one-third of the country's total emissions, she said. The government has increased financing to promote low-carbon agriculture such as no-till farming. Such technologies suggest cost increases for Brazilian farmers that other producers would have a hard time implementing.
The complete article you can read here, source:
http://www.bloomberg.com/news/articles/2015-04-16/brazil-to-present-ambitious-climate-plan-with-more-renewables