The aim of the German-Brazilian Dialogue on Science, Research and Innovation 2017 is to highlight fields of mutual interest and spark an exchange of experiences along three core fields in bioeconomy: industrial biotechnology, use of biomass for technical applications and finally the sustainable food and feed production combined with healthy nutrition.
Furthermore, the event should increase the network between existing initiatives and competences in the frame of bioeconomy in both countries.
The event will be held in FAPESP (Rua Pio XI, 1500, Alto da Lapa, São Paulo, SP), on october 8th and 9th. 
Check here the profile of each speaker with the presentations abstracts.
Official language: English (simultaneous translation will be provided only in the Auditorium). 
Event free of charge. Limited seats.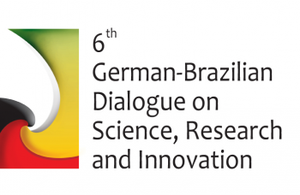 Partners:
- German Federal Foreign Office,
- German Federal Ministry of Education and Research,
- Leibniz Association,
- Fraunhofer,
- Brazilian National Council for Scientific and Technological Development (CNPq).
Supporters:
- Brazilian Society for the Advance of Science (SBPC),
- German-Brazilian Chamber of Commerce in São Paulo (AHK-SP),
- Association of German Engineers in Brazil (VDI Brasil), 
- Konrad Adenauer Foundation, 
- Friedrich Naumann Stiftung.