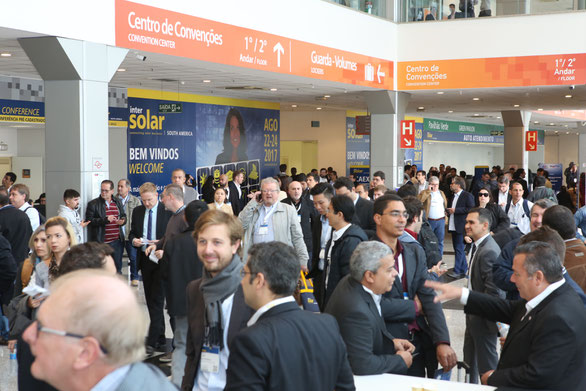 Solar is the fastest growing power generation source worldwide. The reason for solar's popularity are manifold – it's unique in its flexible and distributed clean nature, it allows innumerable applications and it is now also increasingly the lowest-cost power generation technology. An abundance of solar resources, high power prices, falling technology costs, and an increasing need for resource diversification combine to place Brazil among the global leaders for PV development. 
Market analysts agree that Latin America will account for over 10% of global solar demand by 2022. Spearheaded by several key markets such as Mexico, Chile, Brazil and Argentina, opportunities for solar PV are being pushed by clean energy generation targets, competitive auctions, corporate procurement and increased utilization of distributed generation. Currently, the region collectively has installed over 7 GW of solar PV, with an additional 40 GW expected to be developed by the end of 2022. "We are proud to be part of this success story and are looking forward to a vibrant and enthusiastic atmosphere on the show floor", Dr. Florian Wessendorf, managing director of Solar Promotion International and Daniel Strowitzki, CEO at Freiburg Management and Marketing International, the international organizers of Intersolar South America, jointly state. Intersolar South America – LATAM's Largest Exhibition and Conference for the Solar Industry- opens its doors to more than 12,500 visitors. More than 260 exhibitors from 10 countries will present their latest photovoltaic developments, solar thermal technologies, energy storage solutions and electric transportation.
New energy world at display
The global energy industry has been undergoing a radical transformation in recent years. Instead of large-scale, centralized nuclear and fossil fuel power stations, the energy supply of the future will be secured by millions of decentralized renewable energy plants in combination with intelligent storage, distribution and consumption solutions. Intersolar South America reflects this development by hosting and highlighting the special exhibition ees South America and the special exhibit Power2Drive. Covering the entire value chain of innovative battery and energy storage technologies ees South America is the ideal platform for all stakeholders in the rapidly growing energy storage market. Power2Drive highlights the significance of electric cars
for the energy mix and transport of the future and presents e-vehicles such as cars, bikes, commercial vehicles with innovative power drives or charging infrastructure solutions, new business models or PV carports.
Three days packed with information, education and trainings
The Intersolar South America conference will be an integral part of the three-day event. The extensive conference program includes presentations from over 113 speakers covering all relevant topics related to solar markets and technologies, looking at the challenges of decentralized generation, net metering, taxation, grid connection, dissemination, funding and more. "Portal Solar is investing a lot in the Solar Energy Market in Brazil and we like to be connected to the information, InterSolar South America conference is the right place to be when you want to know the latest trends of this market" Rodolfo Meyer CEO of Conference Gold Sponsor Portal Solar explains. Additionally, Intersolar South America offers a comprehensive workshop program to train knowledge and skills. Exhibitors will display their products and solutions at the Innovation & Application where visitors are welcome to see latest innovations, industry trends, as well as workshops and educational trainings. For more information on Intersolar South America, please visit: www.intersolar.net.br
Intersolar South America
Date: August 28-30, 2018
Exhibition times: 12:00p.m. to 8:00p.m.
Conference times: 9:00a.m. to 8:00p.m.
Expo Center Norte – São Paulo – SP
Brazil
Credit: Intersolar Press