Strong international presence of companies and industry visitors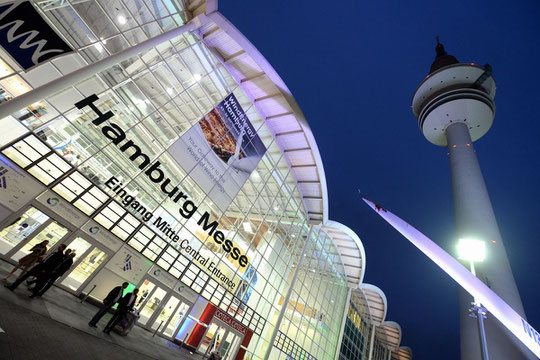 From 25 to 28 September, the world's biggest wind industry meeting will take place at the Hamburg exhibition site: the Global Wind Summit. One of this year's core themes at the trade fair will be: Dynamic markets. Featuring more than 1400 exhibitors from 40 countries, WindEnergy Hamburg provides an ideal platform for stakeholders to identify new markets, build business networks, and nourish key business relationships. Of all the exhibitors at the world's leading wind industry expo, roughly 50 % hail from outside Germany. The Hamburg fair will count 22 national and regional pavilions from 13 countries, including China, the USA and Canada.
"At the Global Wind Summit, political representatives and energy experts from around the world will be able to gain a comprehensive overview of the best ways to utilise wind energy in various growth markets, and meet up with companies from all parts of the value chain," emphasises Bernd Aufderheide, President and CEO, Hamburg Messe und Congress. "Driven by ambitious onshore and offshore development goals, the entire global market is currently experiencing a highly dynamic phase." The WindEurope conference 2018 held in parallel with the trade fair will likewise place great emphasis on international topics. Both of these top events have joined to form the Global Wind Summit 2018 in Hamburg.
Industry visitors from 100 countries, and 14 international delegations
Apart from presenting a comprehensive picture of a highly innovative industry, the world's leading wind industry expo imparts valuable insights and offers plenty of opportunities to share best practices with industry visitors from roughly 100 countries. WindEnergy Hamburg is met with great interest by international experts from growth markets. A total of 14 national delegations from various African and Latin American countries as well as China, Japan, Taiwan, India, Iran, and European countries including the Benelux Countries, the UK, and Poland have announced their attendance. Dr. Fatih Birol, Executive Director of the International Energy Agency (IEA), will be attending the Global Wind Summit in Hamburg, as will Miguel Arias Cañete, European Commissioner for Energy. The Expo's global partner is the Global Wind Energy Council (GWEC); additional supporter of WindEnergy Hamburg, which is fully committed to its international audience, include roughly 40 industry associations from various countries.
Among the exhibitors presenting their innovations for the global market in Hamburg are 16 major wind turbine manufacturers. "The German onshore wind industry can benefit from highly promising international opportunities. Many countries are barely beginning to embrace the energy turnaround, which is of paramount importance. As the world's leading trade fair for wind energy, WindEnergy Hamburg provides us with an ideal platform to present our innovative technologies and solutions for the current and future energy challenges to stakeholders from around the world," said Enercon CEO Hans-Dieter Kettwig. "We believe that the cooperation between this fair and the WindEurope Summit 2018 conference held in parallel in Hamburg is an excellent addition to the trade fair programme. It also underscores Hamburg's role as the foremost meeting place for the wind industry."
The South American countries are great examples of dynamic growth markets for wind energy. The opportunities presented by Argentina's forthcoming third auction round will be highlighted by the planned side event "Onshore Wind in Argentina", organised jointly by the Argentinian Consulate General and the northern German renewable energy clusters centered around Hamburg and Schleswig-Holstein. Toralf Pohl, Vice President New Markets, who is in charge of Senvion's strategic growth in new key markets such as Argentina and Chile, explains: "Over the past years we have successfully built an expansive network and completed major projects in these countries. To support our local partners and account for the increasing importance of these markets, we have established local service teams in addition to our offices in Santiago de Chile and Buenos Aires. In pursuing our strategic goal of expanding our network in these and other growth markets, including the Middle East and Africa, we place great hopes in events such as WindEnergy Hamburg." Quite recently Senvion was able to win an order for 89 model 2.3 M130 wind turbines for Chile.
Nordex Group, likewise a WindEnergy Hamburg exhibitor, closed the biggest deal in company history in Brazil: In October 2019, construction work for the 595 MW "Lagoa dos Ventos" wind farm in northern Brazil is slated to begin. It will comprise 191 Nordex wind turbines. Furthermore, 26 turbines from the N131/3900 series are to be installed in Argentina in early 2019. Both projects include additional local services to be rendered by the company. In Chile Nordex had previously been successful with its Nordex Acciona Windpower technology, and in June 2018 the Peruvian Wayra I wind farm went live with 132 MW of installed capacity.
Keeping an eye on Asian growth markets
International project developers are typically the first people on the ground when wind energy projects are planned in new markets. Taiwan offers an offshore wind development potential of 5500 MW between now and 2025. Dr. Gernot Blanke, CEO of wpd AG, considers Taiwan as "probably the most mature market in Asia that is accessible to international companies. The country's government has announced ambitious goals. In the onshore wind segment we intend to build wind farms with a combined installed power of more than 200 megawatts over the next few years. In the offshore auction held in May 2018, we were awarded two projects worth 700 and 360 megawatts, respectively," reports Blanke. "Other Asian markets we believe hold great promise over the coming years include Japan and South Korea."
Taiwan has also turned out to be a rewarding Asian market for the manufacturer Ørsted. CEO Volker Malmen said: "The Taiwanese government has set defined clear development goals and is driving implementation in a highly focused and committed manner, to the benefit of all stakeholders. Recognizing the potential, we invested in this market at an early time. To our delight, we were among the companies selected and authorized to carry out future projects in Taiwan. Our early presence and openness for cooperation are definitely paying off," Malmen emphasizes. "Apart from the opportunity to meet up with the entire offshore wind segment here in Hamburg and establish new business contacts, this trade fair also allows us to educate the interested public about this technology. Germany still holds plenty of potential too."
Sleeping giants and promising perspectives
Even the so-called "sleeping giants", including Russia, the world's fourth-largest energy market, or Saudi Arabia, which has announced plans to expand its installed renewable energy base to a total of 9,500 MW by 2023 (with a 3,450 MW short-term goal for 2020), will be on the agenda for the Global Wind Summit. Both countries offer significant potential to the wind industry. Companies such as Vestas or Lagerwey, a strategic partner of Enercon, have already established a presence in Russia. For a long time investors were hesitant for a variety of reasons, especially the strict localisation rules. Vestas is delivering components to the utility company Fortum Energy for a wind farm in the Ulyanovsk region (50 MW in total), which is expected to begin operating in 2019. Similar to Rosatom, a consortium formed by Fortum and Rusnano was successful in auctions comprising a total capacity of nearly 1 GW. Vestas is already manufacturing nacelles in Russia and is currently building a rotor blade factory which is slated to launch operations this year. The Russian wind industry association, RAWI, is among the supporters of WindEnergy Hamburg.
Saudi Arabia has been a white spot on the wind energy map so far. Now the country plans to erect its first wind farm with an installed capacity of 400 MW. The auction process for the "Dumat al Jandal" project in the northern part of the country began in 2017 with surprisingly low proposals ($21.30 - $33.86 per MWh) and is expected to come to a close in December of this year. GE was able to install its first GE 2.75-120 model in Turaif in a joint project with Saudi Aramco, the national oil company of the Kingdom of Saudi Arabia. Other WindEnergy Hamburg exhibitors, including Siemens, are participating in the first auction in this new wind market, as well.
WindEurope conference takes a global perspective
The onshore and offshore conference of WindEurope, which is held in parallel with WindEnergy Hamburg, likewise takes a global approach. Subject matter-specific workshops and lectures will address the challenges in new wind markets and provide guidance. The agenda lists topics such as "The next big thing? Saudi Arabia and Russia", "Perspectives for wind in Africa" and "Offshore wind outside Europe: a look at the US, Taiwan and Japan" as well as "Financing wind in emerging countries".
WindEnergy Hamburg and Husum Wind
The Global Wind Summit will be held in Hamburg, the capital of the wind industry, from 25 to 28 September 2018. At WindEnergy Hamburg, roughly 1400 exhibitors from around the world will present their product innovations and projects. The world's leading wind industry expo for the onshore and offshore wind industry mirrors the global market and its entire value chain. In parallel, WindEurope will hold the Global Onshore and Offshore Conference in the halls of Hamburg Messe. The world of wind energy gathers in Hamburg for the Global Wind Summit every two years. At its partner event, HUSUM Wind, the Who's Who of the German wind industry will meet for the following year's most important German wind trade fair from 10 to 13 September 2019. From global market leaders to business pioneers and innovative start-ups, onshore and offshore businesses will be showing cutting-edge technology, product trends and examples of best practice from Germany and the neighbouring EU countries.
For further information please visit https://www.windenergyhamburg.com/en/ and https://www.husumwind.com/husumwind/en/ 
Credit: