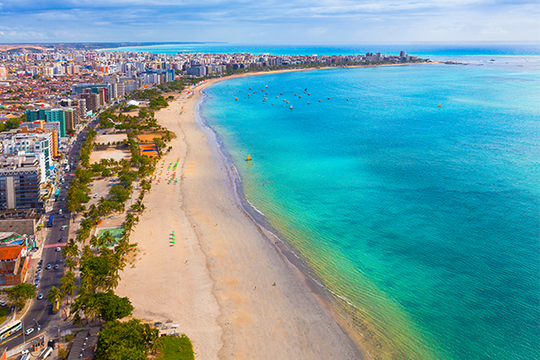 With the support of Federation of Industries of the State of Alagoas (FIEA in Portuguese), Maceió welcomes, on June 13th and 14th, I ETA AMBIENTAL MERCANTIL INTERNACIONAL ALAGOAS 2019. Divided in four panels, the event adresses the following environmental issues:
06/13/2019 – Panel I  - Desalination (morning)
                      Panel II – Water and Wastewater Treatment (afternoon)
06/14/2019 - Panel III – Renewable Energies (morning)
                     Panel IV  - Solid Waste Treatment (afternoon)
The high technical level of the participants opens a range of possibilities in networking and great business opportunities.
Representing the State of Baden-Württemberg (Germany), Ewald Stirner is one of the event supporters and wants to strengthen the Germany's relations with the State of Alagoas and the Northeast, particularly regarding the environmental technologies of several segments from Germany.
One of the world's leading desalination experts, Claus Mertes, engineer and Executive Director of the Desalination Institute DME presents an overview about desalination in the world, as well as new technologies and a market global view.
A Professor Ph.D. at the University of Stuttgart, Uwe Menzel talks about the management of industrial wastewater in Brazil, a project made with the State of Baden-Württemberg.
Simone Horvatin, founder of SUPPLYgoGREEN technologies for a Green World and organizer of I ETA AMBIENTAL MERCANTIL INTERNACIONAL DE ALAGOAS, shows environmental technologies from European companies seeking the Brazilian market. In particular, the steam cleaning technology and the sustainable for industrial tanks and silo trucks from the Dutch manufacturer Groninger.
The multinational LTM Brasil is represented by Marcelo Viegas Soares, and shows the European technology for leachate treatment by reverse osmosis.
Executive Director of Voltmais Soluções Elétricas Sustentáveis, Júlio Müller introduces the first mechanized system for photovoltaic power plants in Brazil. Engineers in Brazil have chosen PVSPIN equipment as the "Techonology Innovation Award 2018".
We have the special participation of SmartSET Energia Tecnologia, a company from the Brazilian State of Goiás. The Executive Director, Felipe Fussi, innovates in Brazil with three product lines of small wind turbines manufactured in Germany. All of them are designed to residential, industrial and rural projects. Energy hybrid projects are becoming a world trend, combining solar module with small wind turbines, in order to have energy optimization.
One of the pioneers in the development of environmental projects in Brazil, Allonda Ambiental is also in this special group of participants. Working with environmental engineering for over 20 years, this company has sustainable environmental solutions to the management of industrial waste.
I ETA AMBIENTAL MERCANTIL INTERNACIONAL ALAGOAS 2019 has the international support of Desalination Institute DME, Baden-Württemberg, University of Stuttgart, Groninger, PVSPIN, LWS Low Wind Speed Systems, Enbreeze Wir Lieben Wind and Vertikon. The event is sponsored by Allonda Ambiental, LTM Brasil, EDS Sustenergy, SmartSET Energia Tecnologia, Correia & Prestes Tecnologia Ambiental, Voltmais and EcoPotenco Energia Sustentável. The institutional support is in charge of FIEA, PCJ Consortium PCJ, Sustainable Water Institute, Brazilian Association of Solid Waste and Public Cleaning (ABLP in Portuguese) and Department of Economic and Tourism Development from the State of Alagoas.
Organized by SUPPLYgoGREEN
Created by Ambiental Mercantil Events
Date:       
June 13th and 14th, 2019

Event:  
I ETA AMBIENTAL MERCANTIL INTERNACIONAL DE ALAGOAS

Location:
Federation of Industries of the State of Alagoas – FIEA
Casa da Indústria Napoleão Barbosa 
Maceió AL Brazil
Take your chance! With us it is easy to introduce your environmental technology and sustainable solution in Brazil! If your company would like to join us, please contact us asap:      
International Sales and Marketing Development
SUPPLYgoGREEN spreading green technologies for a clean world



(TM) 2019 Ambiental Mercantil is our own affiliate company for Brazil and Latin America.