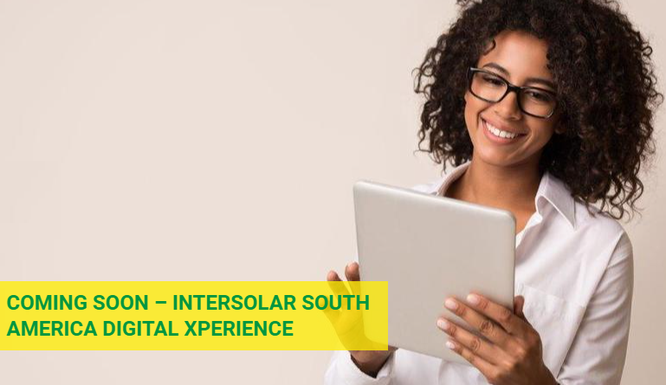 This year,  Intersolar South America as part of The smarter E, will organize the Intersolar South America Digital Xperience, a virtual event that provides - not only - the latest market forecasts for solar developments in Brazil. While solar power is increasingly becoming the most affordable and fastest-growing power generation technology in the world, Brazil has emerged as a solid GW-scale solar market in recent years. If you want to know what the near future holds for solar in Brazil, register now in advance to be informed when the exciting program is published and the registration is activated!
December 1, 2020 I 3:00–7:00pm CET
Session 1: 
Latin America Solar Investment Opportunities 
Partner: SolarPower Europe
Following the rapid cost decrease of the solar PV technology, and a new wave of supportive measures, the Latin America region is starting to unveil its huge market potential for solar energy. In Chile, for example, a total coal phase out is due by 2040, and in Brazil, Colombia and Mexico, in spite of the COVID-19 and unpredictable political climate, new solar capacity in 2020 is exceeding previous forecasts.


In the context of SolarPower Europe's work to unlock solar markets potential in emerging markets, experts from leading companies in the energy sector developed a report on four key markets in Latin America, and their potential for solar PV generation in the coming years. In this session, five experts were invited to share and discuss their insights for each country. The main findings from the report will be presented, including the main barriers to the development of the solar sector, and the recommendations to address them. 
Two parallel sessions
Session 2: Agri-Photovoltaics: The Double Harvest A growing number of governments around the world face a double-edged challenge: How can they move to generate more clean solar power in future while ensuring that enough arable land is available to grow and supply sufficient food for an increasing population? One solution is known as agri-voltaics – the co-development of land for both solar PV and agricultural applications. Presentations will examine this unique concept and the technologies involved as well as the lessons learned to date and prospects for the future.
Session 3: Solar PV combined with electrical energy storage (ees) and Electric Vehicle: Emerging Trends & Business Models Solar is booming globally, due to significant cost reductions, thus allowing to approach grid-parity in many parts of the world. At the same time, technologies such as electrical energy storage systems, electric vehicles and other smart energy technologies all combined with solar PV is not only fundamentally changing prevailing energy power structures, but also creates new business models, allowing to generate revenues from multiple streams. This session is exploring emerging trends and business models already put into practice today.
Session 4: Floating Solar PV Farms: Trends and Prospects
Though still comparatively niche, floating solar systems are becoming increasingly common on both on and off-shore water bodies around the world. Speakers will share their first-hand experience of realizing such systems, the lessons learned and the O&M challenges they faced.