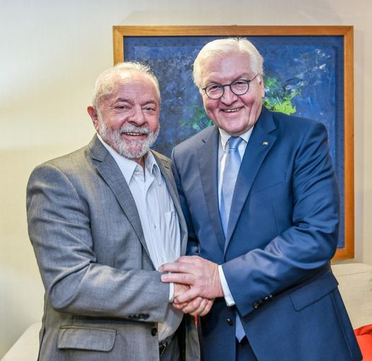 President Lula met in Brasilia on on 12/31/2022 the German Social Democrat Frank-Walter Steinmeier, president of Germany.  While thanking him for coming to Brazil for the swearing in ceremony, Lula talked about expanding economic relations and partnerships between the two countries.
The latest official visit of a German head of state to Brazil took place in 2013 ("Year of Germany in Brazil"), that time who have participated in the swearing in ceremony was the President Joachim Gauck. 
The German President Frank-Walter Steinmeier has promised to support the new Brazilian President Luiz Inácio Lula da Silva "in advance".
"My visit is to provide a start up incentive for a new bilateral cooperation between our two countries," Steinmeier said it in Berlin, short before departing for Brazil. He also said that his visit should also provide an boost "for common goals of protecting the Amazon rainforest, the green lung of our world, from deforestation."

Foto: Ricardo Stuckert
---
Steinmeier announced that Germany would provide 35 million euros at short-term for the Amazon Fund to protect the rain forest. This was money that had been frozen during the time of right-wing President Jair Bolsonaro.
Steinmeier appealed to the global community: "It's not only a challenge for Brazil, we all have a responsibility to protect the climate and our environment and to preserve biodiversity on our planet." 
Press